It would seem that power consumption is increasing by the day, mainly due to the rising scales of production and constant demands from the general consumer. But, the main issue remains that resources are still limited.
With all these factors at play, it becomes greatly important to address how to properly address and bring the levels of consumption down. But, the issue of the problem is such a widespread one that addressing it on a personal or individual level would need to be embedding all of it into the system itself.
Capacitor Panels offer an unparalleled solution to this problem. As you probably already know capacitors are repositories of electric charge, but taking them in a cluster and adding relays, circuit breakers, etc. can do wonders in power correction.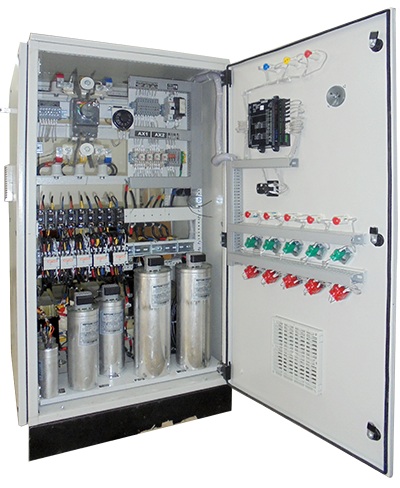 How do capacitors panels help in power correction?
Power factor correction is all about increasing the power factor from a supply. If you're confused by the statement, don't be, as it specifically involves the prevention of effective loss in power, and ensures that you only get the amount that you actually need.
Capacitor Panels are special devices made to this end itself, as it verily increases the power factor correction by a large magnitude. Normally the electric load running all around a facility or residence is reactive in nature and can prevent in great losses as pointed to before.
In the past, most companies intimated their consumers about the importance of capacitors in power factoring. But, they would need to adjust the capacitor to an optimum level with respect to rating across an inductive load.
Setting the value at a specifically lower level can lead to the rise of inductive power factor. Conversely, setting high means that the power factor is turned to capacitive.
Capacitor Panel, however, can become greatly effective as they set the values by themselves automatically, to specify the power factor value to an ideal unit.
Where do Capacitor Panels find the most use?
In essence, the capacitor has been used in such infrastructures that consume a lot of energy. This is the case for factory complexes and shopping malls where the importance of all things running well cannot be overstated.
Under such conditions, installing a high performing capacitor panel can become significantly healthy and advantageous as there is the prevention of a lot of power from getting wasted.
Power Capacitor Panels, however, needs to be purchased only from the best procurer or manufacturer in this regard.
Capacitors are inventions that have brought significant options and possibilities to the human existence and its modern relationship with electricity. Now, many might be aware of what capacitors actually do that is they are repositories of electric charges, which can then be used to direct current at the time of need. Despite being a definition taught to every middle-schooled, capacitors tend to have a great deal of applications than the one just mentioned. Various scientists and experts have found a multitude about the use of these electrical devices, and to be specific, capacitor products have varied consequently in terms of offering them to the general public.
Apart from storage, capacitors are also well-known for power conditioning and cause correction. In terms of the former, the capacitor stops DC power electrical waves allow for pure AC waves to pass, which have been used in different formats in industrial both as a full wave and half wave rectifier, as well as charging pump circuits with more voltage than what the input voltages had been. Power factor correction is often associated with decreasing the inductive characterization of electrical load, which if left as they already are in place, can leave to a great scale of inefficiency in terms of supplying power across large interconnected settings.
But, it is also greatly important to consider the fact that there are other factors, and below there is a consideration about the more obscure uses of modern capacitors.
For Pulsed Power across varieties of scenarios including the detonation of weapons
Large scaled capacitors, usually grouped across a multitude of the same, used for transferring and conducting huge pulses of current waves in a very effective fashion. These banks are often repositories of very low-inductance, high scale of voltage, which  effectively used for detonation in terms of "exploding-bridge wire" or "slapping" for specialized weapons, especially the special ones like that of the nuclear ones. Even now electromagnetic properties produced by modern capacitors are finding use for weaponry for the future, including electromagnetic armor, rail guns etc.
Suppression and Coupling can also perform as capacitive properties
This related to the essential ability of capacitors as effective blocks that limit DC current passing but allow for the AC transfer in terms of signals. This would be used for separation coupling by which AC signals and DC signals used in a parallel format without one intervening one another. Decoupling of one part of the circuit from another also finds great and effective use, which may be used under different scenarios.
Sensory applications
The theoretical basis for this kind of application often rests upon the fact that capacitors are often related to fixed structure, but change in circumstances can result in specific changes within capacitors, which can conversely be used for sensory requirements. Change in the dielectric is the most effective application as an exposed or porous dielectric material can very well track changes. They can also be used to check on the fuel levels in airplanes. Capacitors with specified and marked distance between plates can used to correct derive the level of strain or pressure exerted upon a solid object.
Now, capacitors have even more forms of applications. As noted the above few varieties of products are mostly used in terms of essential products at the heart of which capacitor does nothing but its common functions that have been already established before. However, cases of hazards and safety can easily arise under any setting, and proper care of such situations must be taken under account.
The issue of low voltage network has created several issues of power quality across a wide range of commercial and industrial electrical applications. Power Capacitors however, can be installed to obtain desirable outcomes in terms of tackling the problems.
These may ultimately result in running for smooth sailing operations in organizations, which have become essential to be completely bereft of problems under all circumstances. Capacitors provide the all necessary electrical power, which can also affect the quality of power consumption, which is intrinsically tied to the loss and spending of power.
However, it is important to be completely aware of the exact capacitors that you need to select in order to fully utilize the capacitor in conjunction with your requirements.
First and foremost, you must keep in mind that there are several compliance directives by law that specifically enumerates, and levies penalties if utility of power is not satisfactory. These capacitors can help you avoid such penalties, which may run through huge power loss and inefficiencies otherwise.
Across the cables and transformers, irrespective of intrinsic and extrinsic installations, are hubs of great power losses than anything. Installing LV Capacitors not only helps you in preventing such losses, but it stores them up in well-rounded way so that low voltage problems are corrected by themselves.
They can also help in the downtime reduction of many important and essential industrial and commercial systems respectively. Not only are the efficiency issues are satisfied in the best possible ways imaginable, but they are also responsible in bringing down commercial concerns down across a wide scope of industrial applications.
Unwarranted emissions, as a direct result of loss in power, would also be brought down quite effectively through the application of the capacitors. This would result in a healthier working environment.
One of the most important considerations to be taken into account that different capacitor producing brands and titles approach the issue of power quality management, and regulation in their own effective ways.
This results in any buyer with a lot of options to choose from, and the extent of every problem these power capacitors tend to solve remain as varied as one would imagine. However, aligning the choice with one's needs and budget would certainly lead to the best possible choice for capacitors, best of which are available at Neptune India.